Save 40% | favehotel Zainul Arifin | Jakarta - Indonesia
Pay Now Stay Later
Breakfast for 2, Free parking & Free WiFi
Super Saver Gift Voucher
Valued IDR500.000
Super Saver Gift Voucher
Valued IDR800.000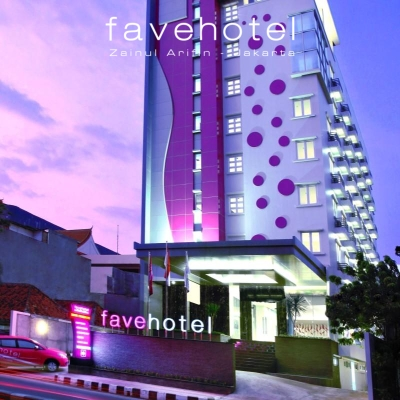 Venue Details
favehotel Zainul Arifin
Jl. KH. Zainul Arifin No.15-17,
Jakarta, , 10130
Save 40% | favehotel Zainul Arifin | Jakarta - Indonesia
Favehotel Zainul Arifin have 84 super clean rooms. The rooms feature also make the guest comfortable. Line beds with a plush mattress, down pillows, cozy duvet and crisp 250 thread-count sheets - along with smart touches. Free high speed WiFi everywhere keeps guests connected while flat LED TVs in the rooms offer great entertainment options

Save up to 40% off on your stay with Pay Now Stay Later voucher for only IDR 395,000nett for 1 night.

The Pay Now Stay Later voucher includes:
Stay at faveroom
Valid for 1 night
Breakfast for 2 persons
15% discount on food & beverage (non-alcoholic)
Free parking Car & Motorbike
Free WiFi
Sales Period from 1 September, 2020 - 31 October, 2020
Voucher validity from 1 September, 2020 - 31 March, 2021
Black Out Dates: 23 - 24 & 31 December, 2020 and 12 & 31 May, 2021

TERMS AND CONDITIONS:
Advance reservation at least 3 days is required.
Room is subject to availability.
Cannot be combined with other promotion.
Cannot be used to stay on blackout date
Cannot be converted to cash
The voucher cannot be extended to any other period
Prepaid & non-refundable
In case of loss voucher cannot be replaced.
Contact the hotel directly at zainularifininfo@favehotels.com
Can be modified ONCE by contacting the hotel directly & subject to availability
Download Archipelago Membership available on Appstore or Playstore and gets more benefits for your future stay
You may also choose to buy our Super Saver Gift Vouchers with extra up to 30% value:
- Pay IDR 400,000 and get IDR 500,000 voucher value! 
- Pay IDR 560,000 and get IDR 800,000 voucher value!
On Sale : 1 September, 2020 - 31 October, 2020
Voucher Validity: 1 September, 2020 - 31 July, 2021
Black out Date: 23 - 24 & 31 December, 2020 and 12 & 31 May, 2021
TERMS AND CONDITIONS Super Saver Gift Voucher:
Advance room reservation at least 3 days is required 
Room is subject to availability
Guests should call or email the hotel to make a reservation
Room Reservation cannot be cancelled and non refundable
Can be modified one time only by contacting the hotel directly (subject to availability outside blackout dates period)
Voucher is treated as cash and must be presented at the Front Office upon check-out. It will be credited towards the total balance and any remaining balance thereafter still remains due.  
There is no 'cash-back' in conjunction with the vouchers, which means that in the event that the voucher value is larger than the balance due, the remaining voucher value expires and will not be paid back in cash.
Gift Voucher maximum IDR 2.000.000,- per redeem / transaction
Black out dates period are applied as per hotel regulation 
The voucher is only accepted from registered guests staying at the hotel, i.e. guests who have checked-in and have an existing guest profile in the system
Hotel reservations email: zainularifininfo@favehotels.com
Hotel reservations phone number: +62 21 6387 3333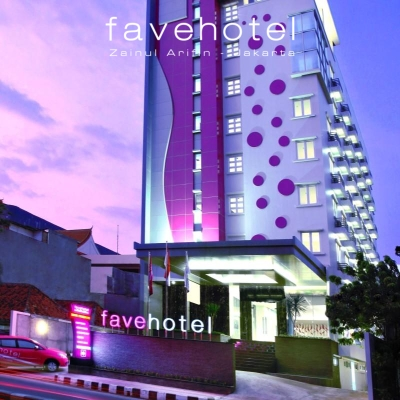 Venue Details
favehotel Zainul Arifin
Jl. KH. Zainul Arifin No.15-17,
Jakarta, , 10130